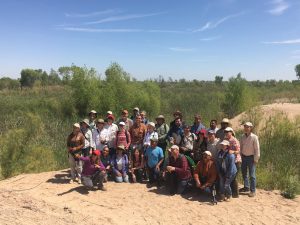 In late April, the Raise the River coalition had the privilege of hosting a group of our amazing supporters to tour the Colorado River Delta and witness first-hand the impressive results of our restoration works in progress. Our group of 25 — which included key coalition members actively involved in the on-the-ground restoration work — traveled from Mexicali, Mexico to several of our key sites.
In Laguna Grande, we walked through acres of the restored region, lush with young, tall cottonwood and willow trees, all planted within the past three years. We also toured the Las Aranitas wetland site, an innovative conservation effort where we planted filtering plants to assist in waste-water treatment — then benefit from receiving a portion of this treated water to sustain our own restoration efforts.
To share a sampling of what our group experienced, Dr. Osvel Hinojosa of Pronatura Noroeste, featured this tour in his recent video 'Report From the Field' on Raise the River's ongoing activities. Please watch and share! 
Thanks to Sonoran Institute, Pronatura Noroeste, The National Audubon Society, The Redford Center, The Nature Conservancy and Lighthawk, whose participating team members helped make this such a special event.