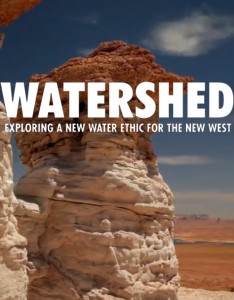 We're thrilled to announce that WATERSHED — the film that launched the Raise the River initiative to restore water and life to this region — is now available for viewing on both Netflix and iTunes!
Executive Produced and Narrated by Robert Redford and Directed by award-winning filmmaker, Mark Decena, WATERSHED tells the story of the threats to the once-mighty Colorado River and offers solutions for a new water ethic for the new American West.
As the most dammed, dibbed, and diverted river in the world struggles to support forty million people and the peace-keeping agreement known as the Colorado River Pact reaches its limits, WATERSHED introduces hope.
In WATERSHED, we meet Jeff Ehlert, a fly fishing guide in Rocky Mountain National Park, Colorado Rancher Dan James, Delta restoration worker Edith Santiago, Navajo Council member Glojean Todacheene, Rifle Colorado Mayor Keith Lambert, Los Angeles native Jimmy Lizama and a group of Outward Bound teens rafting down the Colorado River as they all reflect a compelling new water ethic – one that illuminates how letting go of the ways of old can lead to a path of coexisting with enough for all.
Since its' 2012 release WATERSHED has:
Been an official selection of 53 film festivals, worldwide
Won awards at the Bend Film Festival, the Barcelona International Film Festival, the Red Rock Film Festival and the Colorado Environmental Film Festival
Screened in a dozen countries, in over 500 community settings (and counting)
Broadcast on PIVOT TV
Been downloaded over 43,000 times (so far!)
Driven over 82,000 people to the watershedmovie.com website
Enlisted celebrity support to elevate the profile of the project, specifically Robert Redford, Will Ferrell and Kelly Salter
Join us in celebrating Colorado River Day today, July 25, by watching it — or adding it to your watch-list. And, when you add your review or rating, it helps to make the ranking higher for this award-winning story of the Colorado River Delta.
Share the news!