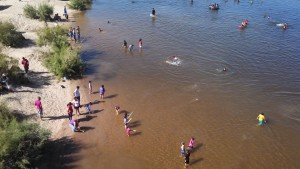 As we begin the new year, we wanted to start by thanking all of our valued supporters and donors for being such an important part of the work we are doing to restore the Colorado River Delta. We could not have accomplished what we have without you.
As we look ahead to the coming year, our goal is to work for the conservation of the region in partnership with the people and the institutions of the Delta. In this way, we will strive to not only restore an environment that supports native biodiversity, but also provide economic and recreational benefits for the local communities of the Colorado Delta Region.
Here's to 2016….thank you for being a part of the Raise The River community!